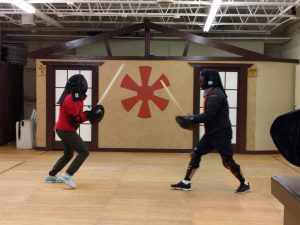 Using a unique training method specially crafted to produce quality swordsmen and women, Ochs America offers several training options including weekly training, personal training, seminars, and specialty courses in Orlando, Florida by qualified veteran instructors.
Whether you are interested in competing internationally, the great health benefits of practicing swordsmanship, or simply enjoying a hands-on glimpse into history's martial practices, Ochs America provides a world class training environment tailored to your specific needs.
Weekday classes focus on skill development for I.33 sword & buckler or German Longsword. Topics will vary based on needs allowing training to be tailored either to those new to swordsmanship or those more proficient. Weekend classes focus on I.33 sword & buckler with specialty classes and workshops available at various times.  Personal lessons are available by appointment.
Our instructors are also available for out-of-town workshops, seminars, and corporate events.  Please see our "Seminars" page for additional details.
For those visiting the Orlando area and wanting to train with Ochs America "drop-in" rates are available by contacting us for personal instruction.