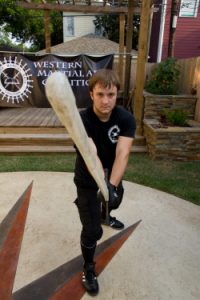 Ochs America provides loaner gear for those just getting started in European swordsmanship. However, students are strongly encouraged to acquire their own equipment so that their training can continue uninterrupted and effectively.
Below are the mandatory equipment minimums for participating in open-fencing at Ochs America followed by direct links to the gear that we recommend. It is strongly recommended that you first speak with an instructor before making any purchases to make sure the equipment is the best suited to your current needs.
Mandatory Equipment-
3-Weapon mask or approved customized helmets
Rigid and/or padded throat protection
Rigid gloves
Padded HEMA jacket or approved gambeson
Rigid groin protection for men
Rigid breast protection for women
Rigid elbow protection
Rigid knee protection (strongly recommended to use integrated shin protection)
Also recommended-
Chest protector for men
Groin protection for women (STRONGLY recommended)
Rigid shin protection
Rigid and/or padded forearm protection
Where to Buy Equipment-
The following equipment recommendations are primarily intended for those getting started in HEMA and have been chosen with an eye towards safety, value for money, and availability. They are listed here in order of preference with more costly or veteran suggestions offered last. We strongly recommend speaking with your coaches for sizing and any additional questions BEFORE making any purchases as this can often save you considerable money in the long run. Like anything, it can often be a wiser option to spend a few extra dollars on a product that lasts you several years instead of trying to save a few bucks on an item that you'll have to replace every six months.
Recommended HEMA Masks-
Throat Protection-
HEMA Jackets and Gambesons-
HEMA Gloves-
HEMA specific gloves are now commonly available and we strongly recommend them because they have been developed with our specific needs in mind. Gloves are NOT the area to try and skimp on. It is far better to spend a few extra dollars on good HEMA gloves than to skip fencing for six weeks because of injury.
Groin and Breast Protection-
Men's groin protection is readily available at any local sporting goods store.
Joint, Shin, & Forearm Protection-
Knee, elbow, and shin protection is readily available locally by shopping in the rollerblading, hockey, lacrosse, mountain biking, and soccer departments of your local sporting goods store. You may also find some good selections at your local used sporting goods store. Another good source for knee & shin protection is motocross equipment, many of the Ochs America fencers use models similar to that seen here. However, they are often available on E-Bay at much reduced prices.
There are other options for most of the gear listed here but members are encouraged to speak with your local instructor about specific items before purchasing.
Equipment manufacturers and vendors interested in OCHS America recommending or prototype-testing your equipment are encouraged to "Contact Us".