Three nights of specialized training with
FIGHT MASTER KYLE ROWLING!!!
Orlando, Florida
July 23rd – 25th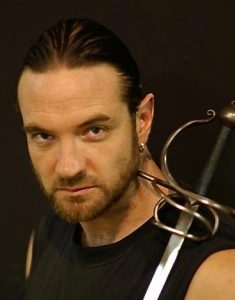 Have you ever wanted to learn how to fight like a Jedi? Or maybe as your favorite video game character? How about discovering useful skills for precarious situations?
Kyle Rowling has been studying acting and martial arts since 1978, and has been combining those skills toward theatre, television and film work now for over three decades. He has worked extensively on such productions as: Star Wars Episodes II & III, Troy, Wanted, Infini, Gabriel, Invincibles, Spartacus: Blood and Sand, Da Vinci's Demons, as well as other theatre and video game projects.
Kyle is offering three nights of Master-classes in Orlando, Florida in a variety of his specialties. Each session will be three hours long and will focus on how to adapt the 'reality' for the 'fantasy', with a focus towards fighting for films.
Over three nights he will present:
Fantasy Sword:
From Conan to Star Wars and beyond. Learn how to take historical sword work and add the 'Hollywood Flair'. "We train historically to fight fantastically".
The Blades of the Assassin's:
Get up close and personal, and "get to the point", with the secrets of the Assassin's Dagger. Apply real life CQC concepts that will truly bring the "game of life and death" into the real world.
Flexible Weapons:
What's better than a weapon that can only strike? One that can strike, wrap, trap, flick and more. Flexible Weapons such as chains and whips are among the hardest to master as you never have complete control over the tip. Plus they inform momentum, smooth continuous motion and angular transition better than any other training method.
Places will be limited and fill up quickly! Sign up for one or all three at [insert facebook event page here]. All skill levels welcome!
Prices are $50 for one workshop or $100 for the all three days! Price at the door is $65 for one workshop and $125 for all. If you're ready to reserve your place at this not-to-be-missed workshop please follow this link to make your secure payment via PayPal. (You will be redirected to our online webstore HEMA Supplies first, don't be alarmed, you are in the correct place!)
LOCATION: 1101 N Wymore Rd, Maitland, FL 32751
TIME: 6:30 PM July 23rd, 24th, and 25th
WHAT TO WEAR: Comfortable workout clothing and a water bottle!
Classes are hosted by Scott Brown of Ochs America. Please contact Scott with any questions at 407.766.8767.
For more information on Kyle Rowling, see his IMDb page and www.action-acting.com/the-founder.